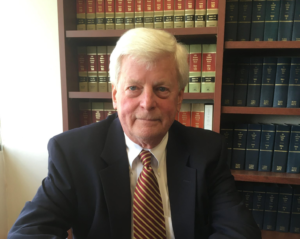 Mr. Jenkins is an experienced and highly regarded trial attorney and civil litigator with over 45 years of experience practicing law in Maryland, with a primary focus in Baltimore County, representing clients in a wide range of legal matters. Mr. Jenkins has worked with and mentored some of the best attorneys in the state, including current Circuit Court Judges. He will provide you with zealous representation to help you obtain the best result for your family and specific situation.
Mr. Jenkins has been accepted numerous times by the Circuit Court for Baltimore County bench as an expert involving legal standard of care, domestic law as well as vis a vis trust administration to include trustee duties and responsibilities to beneficiaries not to mention numerous appointments over the years as: guardian of property; ad litem counsel for allegedly disabled people in guardianship proceedings; receiver in receivership actions (appointed by late Judge J. William Hinkel); liquidator of limited partnership per Corporations & Associations Article '4A-606 (appointed by late Judge Dana M. Levitz); and alter ego liaison to late Judges Robert E. Cahill, Sr. and John G. Turnbull, II of the Circuit Court for Baltimore County and to retired Judge G. Darrell Russell of the District Court of Maryland for Baltimore County.
Admitted to practice before Courts of Maryland, 12/75 
Member, Maryland State Bar Association since 1975 
Member, Baltimore County Bar Association since 1976 
Admitted to United States District Court for the Districts of Maryland 
and of Florida (Middle Division), and Fourth, Fifth and Eleventh Circuits  
President, 2001-2002, Baltimore County Bar Association 
Executive Council, 1992-2003, Baltimore County Bar Association 
Chairman, Baltimore County Circuit Court Judges Election Committee (1982-1993)  Past Counsel, Baltimore County Chamber of Commerce PAC, circa 1986 
Member, Judicial Nominating Commission, Trial Courts, Baltimore County (1987-1991) Certified  Mediator, Circuit Court for Baltimore County since 2001 
Adjunct Professor, Towson University, 1976-1985, Business Law 
Past Member, Boards of Directors, Montessori Society of Central Maryland and Baltimore City Police  Youth Club, Inc. 
Past Member, Board of Directors Ocean Reef Homeowners Association, Berlin, MD; past President,  Hunt Valley Chase Homeowners Association, Sparks, MD 
Eagle Scout, July, 1963 
Education:

Graduate - University of Baltimore School of Law, J.D., June 1975 cum laude

Undergraduate - Villanova University, B.E. in Mechanical Engineering, May 1970
High School - Loyola High, Blakefield, June, 1966

Military:

Honorable discharge, U.S. Army, Medical Corps., 1976